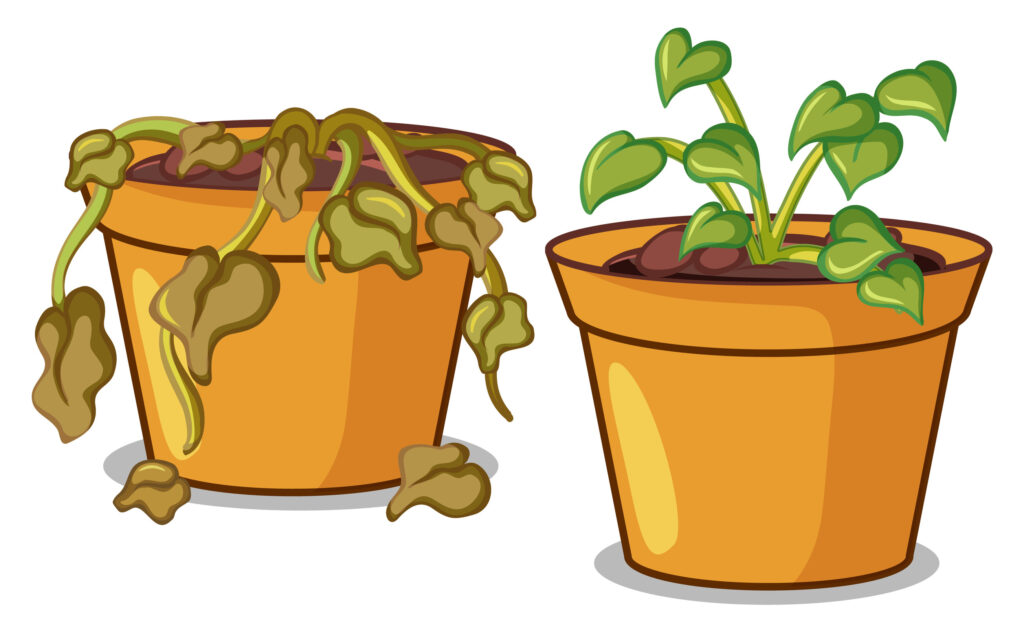 I mentioned recently that I have a little bit of a brown thumb. However, I've kept at gardening and learning about plants. I've improved over time. Along the way, I've picked up lots of tips to revive wilted plants. I wanted to share some of those with you today.
What Causes Plants to Wilt?
I made one of the biggest rookie gardening mistakes for a really long time. I assumed that if a little water is good for plants, then a lot of water is better. Therefore, I would always overwater just about everything. Many of my plants died as a result.
Many different things can cause plants to wilt, including:
Water imbalance – both too much water and too little can cause wilting
Light imbalance – too much sun or too little sun creates problems
Letting the plant get too hot
Over-fertilizing your plants
Disease – various fungi, bacteria, and viruses can impact plant health
The plant needs a bigger container to grow properly
Tips to Revive Wilted Plants
The most important of all tips to revive wilted plants is to identify the cause of the problem. Check the potential causes above. Then correct accordingly. This could mean moving your plant into more or less sunlight, repotting it, or changing the way you water it.
Here are some additional tips to revive wilted plants:
Research the specific water needs of each plant in your garden.
If the soil is moist and dark, the plant might not need water.
Water at the base of the plant, not from overhead.
Make sure that the water is able to drain properly.
Water during the day, not at night.
2. Consider Underwatering, Too
If you're not watering the plant enough, then correct accordingly. The above tips will assist with that as well.
3. Give Plants The Right Amount of Sunlight
Again, research what your specific plants need in terms of sunlight. However, even plants that call for full sun might need shade if they're wilting. Therefore, try adding shade to see if your plants heal and grow as a result. In particular, give shade to plants that appear to be getting too hot, whether or not they're getting the right amount of light.
4. Try a Fungicide
You might have to rule out fungi, bacteria, etc. Start by trying a natural fungicide on your plants. You can easily DIY one of these to try at home. From there, you can explore options for treating various bacteria, etc., that are unique to different plants and regions.
5. Re-plant Your Plants
There are a few different reasons to try this option. First of all, the plant might have outgrown its post. If so, the wilting could be due to a need for more space. Second, though, the soil might be problematic. Therefore, replanting in new soil could help resolve the problem. This is true for plants in pots as well as those in the ground.
6. Watch, Try, Watch Again
Ultimately, let your plants tell you what they need. Look at the issue. Try something above to treat the problem. If it doesn't work, watch some more, then try something new. Gardening includes trial and error. The more you listen to your plants, the better you'll get at it.
Read More:
Kathryn Vercillo is a long time writer, crafter and author of several books. A resident of San Francisco, she is committed to helping others explore, articulate and share their own individuals stories. When she's not evaluating investing opportunities Kathryn is an avid knitter, researcher, and blogger.