Frugal Gardening
By contrary1

First off, despite what commercials and garden stores advertise, there is no need for a fancy collection of expensive tools and gadgets to create a garden space. With that said, here's an outline of what most gardeners would consider the bare bone tools that you need to have: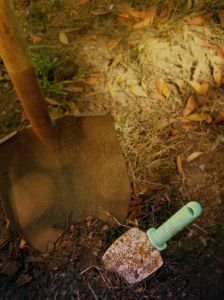 A Shovel: A must have to turn over the ground and dig holes for new plants. If you can only get one, make it a round end.

If you can afford to come up with 2, add a flat end so you can use it to scoop up gravel, mulch and topsoil as well as cut a straight edge in sod for borders.
A Hose: You need to have a hose long enough to get water to your garden(s) and a bucket or watering can for smaller jobs like mixing plant food or soaking roots prior to planting.
A Cultivator Of Some Sort: You'll need some kind of hoe, either forked or solid for garden beds. If you're working in small containers, you'll also need a hand held version.

With the above tools, you should be able to put together a quality garden using very little money on your actual tools. Anything beyond this short list is usually just a convenience. If your funds allow, however, you might want to add a few tools from the following list:


A Wheelbarrow Or Garden Cart: While you can do this by hand, a wheelbarrow or garden cart can be extremely helpful to haul dirt, compost, leaves to and from your garden. Smaller containers like bushel baskets also work for many of these tasks including bringing in the harvest from your veggie patch.

A pitch fork

A turning fork

A rake

Sprinkler can & spray nozzle for hose

Twine and stakes for marking rows and tying up plants

Pruners

Garden gloves and shoes

Knee pad

Remember all the frugal shopping tips when beginning to collect garden tools. Shop thrift stores & garage or tag sales and check your local Freecycle chapter and Craigslist. People are frequently getting rid of yard and garden supplies as they downsize or replace and it isn't difficult to locate tools that are still in quality working condition.

To keep things frugal, it's also vital to remember to care for whatever garden tools you do have. by taking quality care of your tools, they will last many seasons and there will be no need to replace them. That means cleaning off the shovels & hoes and drying them prior to putting them away. Also be sure to coil up hoses when not in use and to drain and put them away prior to freezing weather.

If you need to replace your gardening tools, or just need to buy newer tools, wait until you can find good deals with coupons. You can also search for good deals on coupons.answers.com.